And, as if by magic, the webmaster appeared...
Staff member
Admin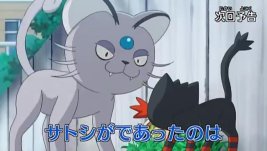 The Marketplace Wanderer, Litten!
The Litten that wanders around Hau'oli City has appeared again and has taken Ash's lunch. Ash, angry about his lunch, goes after it but when he finds the Litten, he sees it has been wounded in battle. Learning about the Persian that caused it issues, Ash takes the Litten home to take care of it, but it ends up leaving. Will Ash be able to find it and help it like humans?
Visit The Episode Guide
Discuss