And, as if by magic, the webmaster appeared...
Staff member
Admin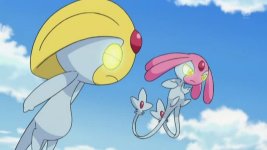 Azelf, Uxie & Mesprit!
After having a dream where Azelf, Uxie & Mesprit call out to them, Ash & Co. quickly discover that the legendary Pokémon are under attack by none other than Team Galactic. With Team Galactic recruiting Hunter J to assist in the capture, it seems certain that they will be captured. Will Ash & Co. be able to protect them?
Visit The Episode Guide
Discuss