Born of controversy, this is the New Starter Pokemon Club.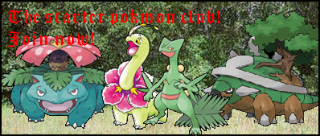 Explanation for the Coup:
I want to establish that first off, I did not ask for this. Our owner Eclipse was banned from the forums, and one of our members, Burrado Aipom pm-ed Chelc about it. I was on a four hour car-ride, unaware of everything.
Shape of things to Come:
I am the new owner of the Starter Pokemon Club. In order to keep all of our new members, any changes made will be minimal...except for one. The New Starter Pokemon Club is now a Democracy. Each and every one of you will have a say in what we do, through voting. The owner stays the same, as do the co-owners. However, there will be leaders, and you will elect them…once every 6 months.
The rules:
These are still being amended, but here they are for now.
1. This is a democracy. Owners, Co-owners and leaders are only here to represent you and regulate things. That means we vote on most things.
2. All SPPF Rules apply
3. PM the Owner or Co-owners if you want to contribute something major to the club.
4. Try your best not to act like a noob. This includes poor spelling and grammar.
5. In your first post, state your Favorite Starter Evolution Line and you will be ranked in the first evolution of that line.
6. Treat others fairly. That includes all of us, even Co-owners and the Owner. N00bs rejected will be treated with respect. Failure to adhere, will result in a warning.
7. If you want to contribute art, by all means do it!
8. Fail to follow this, you will get a warning. Three warnings earns you a ban. You may contest a ban one month after it happens, and it will be re-reviewed.
9. You may not be a Co-owner. There are already 4. You may not be a Co-Owner unless a Co-Owner quits and you are chosen.
10. You must have a post count of at least 50 to join or have been a member of Serebii for a month. During the first two weeks of your membership, the staff will keep a very close eye on you, and can ban you if you act like a n00b or a jerk.
12. Your spelling and punctuation must be relatively good.
11. If your favorite starters get criticized, oh well. It's just a game.
13. You must post: "Hi [insert the professor's name that distributes your starter] my name is [insert name here] and I would like [insert starter here]" in your first post.
14. Topics don't have to be about the Starters or Pokemon, but it would be appreciated if they were.
15. The Owner and Co-Owners are the only ones allowed to approve new members, and Co-Owners have the right to give out warnings.
16. If you need help with something (Bannermaking, these forums, or even in real life) feel free to ask. We're a friendly bunch and either help you or direct you to someone who can.
17. You only have one shot two weeks, to join.
18. Co-owners and Owners will deny entry into the club if the sentence wasnt said when joined. They can deny entry to people that have flammed other people or have a bad record on the forums, in other Clubs, or other websites.
19. Anyone can join, even if you quit or were banned from the previous Club, but you still must qualify and follow all rules.
20. Please restrict talking about the Great Club Civil War to pm's or profile posts. It's in the past and its a sore subject.
21. It is 75 posts to evolve to a second stage starter, 250 for a third stage starter.
22. Leaders will be elected every 6 months and by the entire club. Do not ask to be a leader unless it is election season. If a leader or co-owner goes inactive, MM will appoint a new one.
23. One-liners are strictly forbidden. There're mentioned in the sticky at the top of each clubs page. One-liners WILL result in a One week Ban.
Websites:
1.
TT's Site
The member list:
Manaphyman (Owner) ;389;
Fire Suicune (Co-Owner) ;260;
Kyogre35 (Co-Owner) ;260;
Hydro King (Co-Owner) ;009;
Eclipse (Co-Owner) ;395;
Leomon ;257;
Sp1derp1g ;159;
dash142 ;252;
Larry ;160;
purple absol709 ;153;
Mikaruge ;006;
Tatortot ;260;
Dark Arceus ;160;
eevee10 ;390;
Niedude ;006;
Poison 13 ;003;
latiosreborn ;009;
Griff4815 ;253;
Sarahpom83 ;390;
Riversong ;009;
totodilecharizard ;158;
elite ralf ;387;
apollo572 ;007;
yhyiannis ;256;
Firaga Metagross ;258;
Mew-100 ;158;
Ch0c0late Av3ng3r ;390;
Suicunerider ;393;
jorisw ;390;
coolminun ;258;
Goodspeed The Most Ballin ;158;
runka ;004;
Dredsen ;391;
xXPorygonXx ;155;
Storymasterb ;387;
Spongeaud ;155;
Feldt ;004;
golduck#1 ;252;
mewmew202 ;153;
mew_the_original ;259;
Co-owners:
Dark Arceus, Kyogre35, Eclipse, and Fire Suicune
Leaders:
Fire: Niedude
Grass: Poison13
Water: Tatortot
Userbars:
These must be in your signatures. It would be nice if you could link them too.
































Staff Userbars:




Shiny Banners: These are NOT to be put in anyones signature unless said otherwise. If one of these is placed in your signature without permission, you will be booted fromt he club.
Shiny Banner Recipients:
Riversong
Hydro King












*Credit to Riversong for ALL of the userbars.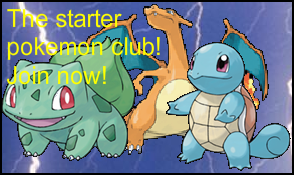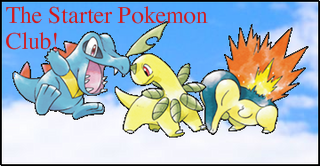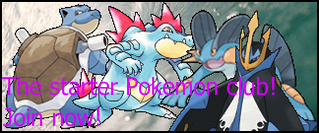 *Credit leomon for the banners!
Mewmew202
Riversong
Feldt
http://i272.photobucket.com/albums/j...g?t=1214320842[/IMG]
Mikaruge84
Tatortot
Sarapom83
The rest dont fit!
Last edited: