~*~The Paper Mario Fanclub .3.0~*~
Come one and all, fans of the Paper Mario saga so far, and fans of the up and coming Paper Mario games. Don't be shy, we welcome all who wish to join! This club (approved by Psi) has been remade due to lack of posting in the previous one. I felt that we needed another one because, who doen't love our flat hero?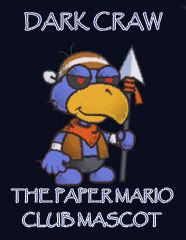 Thanks to our GFX head of the club; flame fox. He's the mastermind behind this sweeeeeeeet picture, I just wanted Dark Craw to be the mascot. =P
Rules: Please Read before joining!
1. All SPPf rules apply (click
here
to see)
2. Please, no flaming or bashing or anything else like that.
3. Absolutely no spamming at all.
4. If you wish to be a co-owner, please do so in the form of PM. Co-owner spots for the time being however, are closed.
5. If you wish to use a banner or anything like that, please ask the maker first. If the maker wishes for you to give any extra credit, please do so.
6. Remember to read and fill out the form if you want to join. This is just so I know you read this post.
7. Have fun!​
Member list:
1. fuzzyqwilfish (owner)
2. Dark Dragonite (co-owner)
3. DawnOfXatu (co-owner)
4. Latios Legend (co-owner)
5. flame fox (Official GFX head of the club)
6. Trace360
7. Pamizard
8. FlamingRuby
9. Shadow Ichigo
10. swift arrow
11. pokeinuyasha
12. shiny charizard master
13. Fircoal
14. shirika2436
15. Chaotic Sneasel
16. water types rule
17. T Meister
18. Munchlax66
19. Shiny Blaziken
20. Chiming
21. Forretress Fan
22. legendary master Jose
23. ChocoFlamingo
24. mrhiyuck
25. BlazeShadow
26. Dragon Trainer EX
If you wish to join please fill out the following form:
Of the two so far, which have you played?:
Reason you like the PM saga?:
here's the current topic. It may be a bit old though, but you can still answer it:
None, just going over Super Paper Mario before it releases.
And again I say, have fun and thanks for your cooperaion!
Don't feed the Piranha Plants.
Last edited: