And, as if by magic, the webmaster appeared...
Staff member
Admin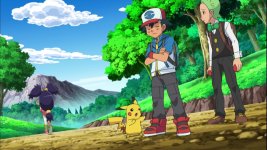 Ash and Iris Break It Off!? Highway to Separation!!
Arriving on Big Island, the biggest island in the Decolora Archipelago, Ash & Co. encounter the rare Pokémon, Dunsparce. Ash is eager to capture it and challenges it to a battle. During which, it uses its Screech attack which disorientates Ash, causing him to fall onto Iris' floral headdress, and while Pikachu tries to attack the Dunsparce, Axew inadvertently crashes into it causing Dunsparce to escape. Ash is angered and blames Axew for this, causing Iris to get angered at Ash. Ash tries to mend fences with Iris, but Iris angrily says she's leaving and heads off with Axew. Will Ash & Iris manage to make up?
Visit The Episode Guide
Discuss