And, as if by magic, the webmaster appeared...
Staff member
Admin
The Path to the Pokémon League! (008)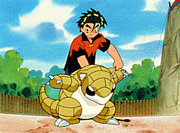 The Path to the Pokémon League!
Gloating after earning two badges, Ash tries battling a trainer called AJ who is trying to get 100 consecutive wins with his Sandshrew. Can Ash cause AJ to have to start over?
Visit The Episode Guide
Discuss