And, as if by magic, the webmaster appeared...
Staff member
Admin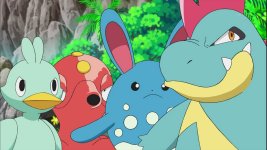 The Pirate King of the Decolora Archipelago!
While heading to the next island, Team Rocket concoct a plan to steal all the food from the ferry's store room. However, before they get a chance, various Water-type Pokémon appear and steal the food before them, taking it off the ferry. Ash & Co. hear the alarm and rush to help, only to find the getaway raft and watch the Pokémon get away with the food. After hearing about the acts that these pirate Pokémon partake within, Ash decides to try and stop them, with Charizard, Snivy & Pignite attempting to make them see the errors of the ways. Will they succeed?
Visit The Episode Guide
Discuss