And, as if by magic, the webmaster appeared...
Staff member
Admin
The Punchy Pokémon! (029)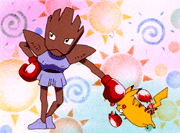 The Punchy Pokémon!
After finding a Hitmonchan owned by a trainer, Ash decides to enter a Fighting Contest called the P1 Contest with his Primeape. Does Ash stand a chance or will he be K.O'd in the first Round?
Visit The Episode Guide
Discuss