And, as if by magic, the webmaster appeared...
Staff member
Admin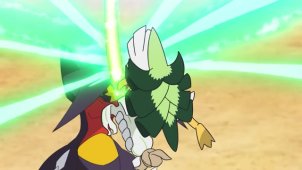 The Semifinals III: Valor​
Ash's battle against Cynthia rages on with Ash having lost 3 of his Pokémon already making Ash having to face an uphill battle. However, with Cynthia's strategies pushing him more and more up against the wall, Ash decides to unleash a strategy for a big breakthrough. Will Ash manage to get through and change the tide of battle?
Visit The Episode Guide
Discuss