And, as if by magic, the webmaster appeared...
Staff member
Admin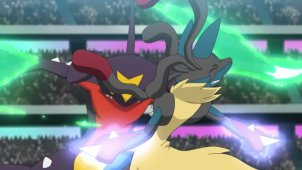 The Semifinals IV: Impact​
Ash's battle against Cynthia is reaching its climax. With Ash down to just his Lucario, he faces a tough battle against Cynthia's Dynamaxed Togekiss, as well as her Garchomp. Ash refuses to give up while Cynthia tries to overpower his Pokémon with brute strength. Will Ash & Lucario be able to make it through and win the match, or will Ash's Master Tournament dream come to an end?
Visit The Episode Guide
Discuss