And, as if by magic, the webmaster appeared...
Staff member
Admin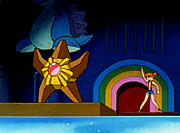 The Water Flowers of Cerulean City!
When Ash & Brock enter Cerulean City, Misty is no where to be seen so Ash decides to take on the gym. However the leaders do not wish to battle. Suddenly Misty turns up and says she will battle Ash. Will she win?
Visit The Episode Guide
Discuss
Last edited by a moderator: