And, as if by magic, the webmaster appeared...
Staff member
Admin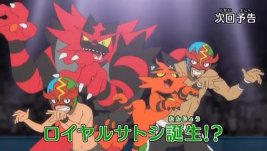 The Young Flame of Alola! The Birth of Royal Ash!!
Once again, Ash & Co. go to the Battle Royal Dome to see another Battle Royal. However, in the match, the Masked Royal seems to be in trouble when his Incineroar is in trouble due to dirty attacks. Ash's Torracat can't stand watching it and rushes into the ring. This causes Ash to join the Battle Royal as "Royal Ash". Can they get victory?
Visit The Episode Guide
Discuss