And, as if by magic, the webmaster appeared...
Staff member
Admin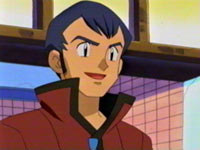 There's No Place Like Hoenn!
In Petalburg City, Ash decides to head for the gym but May heads elsewhere. Entering the gym he discovers a young boy named Max claiming to be the Gym Leader...Ash doesnt believe this especially when May turns up claiming that Max is her brother. It turns out Norman, May's father owns the gym and only does 3 on 3 battles. Ash doesn't have enough Pokémon but asks to have a Practice Match...Who Will win?
Visit The Episode Guide
Discuss