And, as if by magic, the webmaster appeared...
Staff member
Admin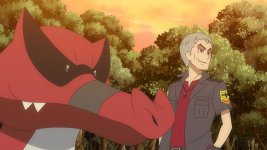 This Tough Old Geezer's the Island Kahuna?!
Wanting to continue his Island Trial Challenge, Ash has come to Ula'ula Island in order to face the Kahuna, Nanu. However, Nanu has avoided him so Acerola helps Ash track Nanu down, but Nanu refuses his challenge. Acerola decides to convince Nanu to let Ash battle him to show he's ready. Will Ash be able to prove his worth?
Visit The Episode Guide
Discuss