And, as if by magic, the webmaster appeared...
Staff member
Admin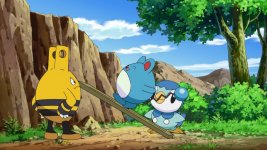 Marill, Piplup & Elekid
On their way to the next turn, Ash & Co. meet up with a trainer and her Marill. Piplup quickly falls for the Marill and is eager to show off to her. However, an Elekid is nearby and also wishes to prove itself. When they meet, Piplup & Elekid start competing. Who will win the heart of the Marill?
Visit The Episode Guide
Discuss