And, as if by magic, the webmaster appeared...
Staff member
Admin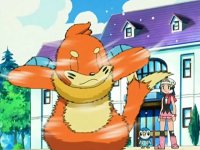 Aipom & Buizel! Respective Roads?!
On their way to Solaceon City, Ash & Dawn are both prepping their Pokémon for their upcoming challenges. However, after emeting up with Zoey, Zoey suggests that Ash & Dawn trade Aipom & Buizel due to their tastes being in the other trainer's vocation. Ash & Dawn decide to take it out for a try. Will these Pokémon like the new ideas or will they want to stay with their original trainer?
Visit The Episode Guide
Discuss