THERE WILL OBVIOUSLY BE SPOILERS.
Discuss the times the Pokemon series has confronted fans with serious questions about the Pokemon world.
I'll start. Competitive Pokemon! Friendship! & Loneliness!
Competitive Pokemon. It's joked by some where the consistent themes of friendship featured in the Pokemon series has no meaning in competitive Pokemon outside of being a literal mechanic based on numbers. In Pokemon adaptations, the standard to explain competitive Pokemon to fans in a story is usually through a rival like Paul of the anime or Green (Rival) of the manga. It's here that Pokemon Adventures Emerald Chapter shatters fans expectations by not giving them the competitive rival but the competitive hero, Emerald.
"I don't like Pokemon, I like Pokemon battles!"- Emerald's Philosophy
The quote above philosophizes that this kid has no interest in the friendship of Pokemon. He's interested in the sport of Pokemon battles. He sounds kind of like a jerk right? He kind of is and we can see this quote expressed through how he has access to a PC BOX that is an endless supply of Pokemon for him to use to challenge the Battle Frontier. It's not until this competitive player is confronted by several important characters that his philosophy is put into great question. His own consistently used Pokemon team cares a great deal for him. Ruby who comes in not as the friendly hero but temporarily as the friendly rival confronts Emerald about the friendship of trainer and Pokemon through his own Milotic. Palace Maven Spencer confronts Emerald that his facility relies not on the competitive abilities of a trainer but the trust of his Pokemon. It's here that Emerald is pushed into a corner, refusing to listen each and one of them, ignoring each of these confrontations for some reason, going so far as to send his bonded Pokemon away to the PC as the thought of it clearly bothers him.
Emerald -
"Don't look at me like that! This is a competitive sport! I'm in it to win. So what if everyone's telling me that feelings and bonds are important? I can't take on a challenge with a team that doesn't have a chance of winning!"
It's this quote that readers see a conflicted and lost Emerald. The philosophy of "I don't like Pokemon, I like Pokemon battles!" is slowly breaking away as his past is chasing him and when Emerald chooses the Pokemon he bonded over competitively-viable Pokemon, it's also here that the ruthless villain who has a complete disregard for both human and Pokemon life, Guile Hideout, ultimately puts Emerald's philosophy into great question when he confronts Emerald's philosophy not by arguing with him but by agreeing with him.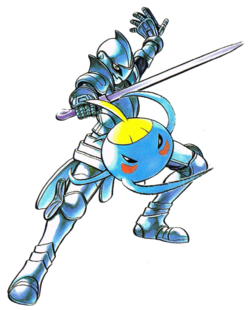 Guile Hideout -
"I thought you liked Pokemon Battles and not the Pokemon? I heard you. These Pokemon don't have an ounce of strength left in them. Using them to fight Pokemon battles is out of the question. They're trash. You might as well dispose of them. They aren't the only Pokemon in the world, you know. There's nothing wrong with liking battles over Pokemon. Don't you agree?"
It's in the final chapter that Emerald confronts fellow trainers as to why he was acting like such a jerk to his Pokemon and to people who cherish the bonds of Pokemon, revealing that his wacky hair and clothing is merely a facade hiding his true identity, a pre-teen in a small body suffering from a growth spurt-related condition similar to that of dwarfism. As a young boy, he often relied on Pokemon he befriended for help only to be mocked for it because of his condition and this pressured him to refuse any Pokemon's friendship. It's from this pressure that Emerald reveals...
"I've always been alone."
Pokemon Adventures Emerald Chapter is a story that draws readers into promising them a Battle Frontier full of action and the utilization of many competitive mechanics of the Gen 3 era but is also unafraid to confront Pokemon fans with serious questions about the subject of competitive Pokemon, friendship and loneliness.
Last edited: