And, as if by magic, the webmaster appeared...
Staff member
Admin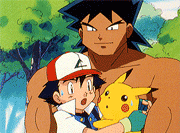 To Master The Onix-Pected!
After watching Elite Four member Bruno on TV, Ash & Co decide to do training in the mountains to be as strong as Bruno. However they meet Bruno and Bruno manipulates them to do some menial tasks for him. Meanwhile a Giant Onix is causing a rampage...Can Bruno stop it?
Visit The Episode Guide
Discuss