Requests are closed!!
Cards have all been moved! So if your photobucket link isn't working, please go to visit my album,
here
, and find yours. Sorry for the trouble! I promise you, none have been deleted.
Important notice
: I have retired (yes, you heard me right), so I'm leaving my shop in the care of Myzou. Please don't stress her out, k? I might or might not come back every once in a while to help out, but don't count on it. I would like to see this thread live on, so keep requesting, but have patience while the workers here get things sorted out, Mmkay? Thanks.
If you'd like to learn how to make them yourself, I've made a tutorial
here.
Before I give the info I need to make you one, here are the rules.
1. You can request no more than two trainer cards in one post. You can however ask for two more once your previous two are finished in another post.
2. No editing the trainer cards. Even if you don't like it, that doesn't give you the right to change it. Instead you could just ask for another one.
3. Use proper grammar when requesting. Otherwise I might not understand a word you're saying. Also be sure to spell the pokemon's names right.
More rules might be made in the future, so always read the first page before requesting.
Here are the templates you can currently choose from:
The original: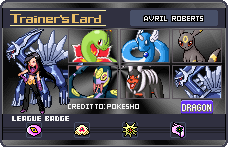 The template I created: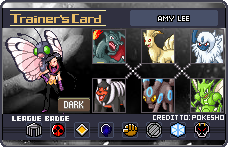 And three others with Myzou's templates: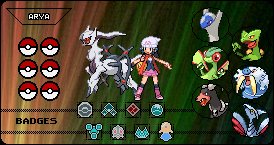 This is the info I need to make you one:
Template: Choose from the 1st, 2nd, 3rd, 4th, or 5th version.
Name: Your name here.
Trainer Sprite: Choose from D/P, Emerald, FR/LG, R/S, Crystal, and G/S.
Pokemon Behind Trainer(optional): D/P, Emerald, FR/LG, R/S, Crystal, G/S, Yellow, R/B, or Pokesho.
Pokemon: Read above.
Badges: Kanto, Jhoto, Hoenn, Shinou, Frontier symbols (gold or silver), or OI badges.
Background(optional): State what you want.. Can do almost anything.
Favorite Type(optional): No more than three, (can only have one on my edited card and none on the other three).
Card(optional): What shades do you want the template colored?
Your request will take 1-3 days, but if I have a lot of requests to do, like say 9, it could take a lot longer.
~~~~~~~~~~~~~~~~~~~~~~~~~~~~~~~~~~~~~~~~~~~~~~~
Last, but not least, I am allowing those who are good at making trainer cards to help me make them. I plan on this thread becoming the best tc request thread ever made and with a lot of helpers, that dream could come true. Note to everyone: I removed tons of people on 10/8/06 because they just weren't.. helping. I understand that the school year is tough, but I just kept the people that I thought were REALLY interested. If you would like to be put back on the list, PM me.
Current helpers(ones that have helped recently):
Flame of Madness
-
Work example
Myzou
-
Work examples
Maseki
-
Work example
Magne-2000lbs.
-
Work example
Knightblazer
-
Work example
Special templates
If you would like to help, ask here. You must give me an example of your work though.
Remember to give credit to the person that makes it for you when you put it in your sig! Otherwise, you will be eaten alive by a mob of vicious rattlesnakes. ;336;
Waiting list:
Munchlax42
Template: 4th
Name: Munchlax42
Trainer Sprite: D/P Male Hero
Pokemon Behind Trainer: Manaphy
Pokemon: D/P Alakazam,Erureido,Yukimenoki,Weavile and Enperuto and Red Version Mew!
Badges: Shinou
Background: Something Icy!
Favorite Type: Ice,Water,Psychic
Card: Icy Blue
Sunnyp28
Name: 2pac
Trainer sprite: Ash (in FR LG)
Pokemon: suicune, raikou, entai, mew, ho-oh and anurus
Pokemon behind sprite: deoxys(speed form)
Card: any kind,preferably something red
Badges: All
Favorite type:
Kaess079
Name : Erebus Lance
Trainer Sprite: Lance in pokemon Speical or Green in pokemon Special
Pokemon: Scizor (black), Lapras, Umbreon, Tyranitar, Aruseusu and Diaruga
background card:
http://i136.photobucket.com/albums/q177/KnightblazerPro/AlucardTC.png
Bages: Frontier symbols (gold)
Card color: Black or Dark color
#1 Mirakuge lover
Name: Joey
Trainer: Noland
Pokemon: Donkrow, Gabite's evo, Emperte, Roserade, Rentorer, Lucario
Pokemon behind trainer: Fuwaraido
Background: Night (dark colours if unable to get) not too fussy
Fav Types: Dark, Ghost
Badges: Sinnoh badges
Last edited: