Tribal Savages(Recruiting Now)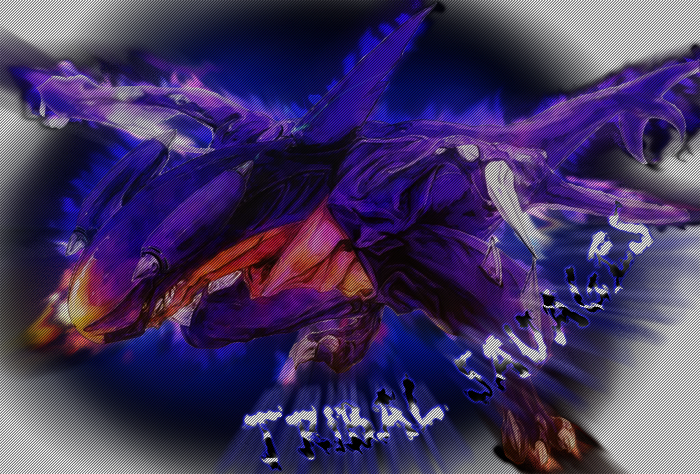 Welcome to "Tribal Savages" the domain where leaders of leaders are born. If you are looking for a down to earth clan and trainers who aren't afraid to battle this is your home also. Here we dont believe in the word "NUB/S" only the word beginner cause we believe all people who try their best are the same as anyone else. This is the domain where death is delt to all who mess with the Tribal Savages. So read more and decide for yourself.
RULES
"Read them, learn them, Live them"
" All rules of SPPF apply here"
1.) Respect your "Leaders"
2.) No disrespect of your clan mates or any other clan within Serebii
3.) No Trolling of clan members
4.) Give "Respect" to all Serebii mods and thier decisions
5.) Dont dare "Spam or Double post in Clan thread"
6.) Dont ever think your better than anyone just be yourself
7.) All "Clan business is kept within the Clan"
8.) Stay "Active"
9.) All "Chat Moderaters will obey Chat Rules"
10.) Do your best so that we all achieve our goals.

(

Break these "RULES" and punishment will be Enforced"

)
We are alos accepting "DOUBLE BATTLERS" here we work on both concepts of PKMN Battling so if you Double Battle you are wanted.
​
Application
Application-
Username-
What would you like to be called?-
FC-
Activity Level-
Rate yourself as a battler-
Anything else we should know?

Note: to any members applying, If you are a "Troll" or known troll. You are not wanted in this caln. We dont care who you are or who you know you are not welcomed here. We have the right to deny you membership if you dont like it go take up space in some other clan. The Tribal savages Leaders and Clan members.

"We are here to serve you in the best way possible, Dont take our kindness for weakness"


I am Calarus-aka,"The Kanto Pokeologist" Feared By Many, Hated By Few, Respected By All.

New Work Schedule: GMT -1, I will be on everyday except WEDS 3:00pm till 5:30pm. Saturday & Sunday will be 8:00am till 2:00pm
So this is my schedule please understand that these are the only times I will be available cause very busy with work.
.
​


Yeah Like I Care, I run This Show.



100% Reason To Remeber The Name.
Vacant Leader Spot
Im Not The Best, Just Hard To Beat.
VACANT LEADER SPOT

TRIBAL SAVAGES VS. CLAN CATALYST
TS-3 - CC-2
VICTOR: TRIBAL SAVAGES
"TRIBAL SAVAGES WAR BOARD"
War Opponent: Team Catalyst
Roster Size: 5 vs 5
Starting Date: Now
Roster Lineup: ISDr, Voidhawk, Viridian91, Ron, Calarus.
Negotiation Terms: Nothing special
Score: 2-0, (T.S.)
These are the details as of now I will keep it updated.

Everyone that 1st joins will start with the Child Rank

After passing your 1 week probation you will move on to Tribal Student and allows you to purchase "SHOP PKMN"

This is where you will request your 1st Rank up battle
The Tribal Healer is youre second Request RB
This will be youre 3rd RB

This will be youre 4th RB-Allows you to apply for a Clan job

This will be youre 5th RB-Allowing you to decide War nagotiations

This Rank is obtained through service
This Rank is obtained by winning war battle and your activeness in wars
This is our Highest Rank-Honorary members who have gave their devoted time and sweat recieve this rank this rank is equal to the leader and Co-leaders
About the shop, pokemon will be listed and classed by their playable parts. Example Offensive and Defensive, Staller etc. Moves, Nature, EV's, IV's and Item will also be posted.
Shiny PKMN-You can tell shiny shop pkmn from their counterparts by their glowing tinge or are labeled shiny.

(3) Adamant TORTERRA : Rock Polish WITH Life Orb (5 Medals)
IVs: 31, 31, 31, 31, 31, 31
EVs: 252 Atk, 4 Def, 252 Spe
Moves: Rock Polish, Earthquake, Wood Hammer, Stone Edge



(3) Modest EMPOLEON : Agility SubPetaya WITH Petaya Berry (5 Medals)
IVs: 31, 31, 31, 31, 31, 31
EVs: 24 Def , 252 SpA , 232 Spe
Moves: Agility, Substitute, Surf, Grass Knot



(3) Hasty INFERNAPE : LeadApe WITH Focus Sash (5 Medals)
IVs: 31, 31, 31, 31, 31, 31
EVs: 64 Atk , 252 SpA , 192 Spe
Moves: Fake Out, Stealth Rock, Fire Blast, Close Combat



(3) SHINY Timid GENGAR : LifeOrb set (7 Medals)
IVs: 31, 30, 31, 30, 31, 30
EVs: 4 Def , 252 SpA , 252 Spe
Moves: Shadow Ball, Thunderbolt, Focus Blast, Hidden Power Fire / Explosion



(3) SHINY Adamant GYARADOS : Offensive Dragon Dance WITH Leftovers (7 Medals)
IVs: 31, 31, 31, 31, 31, 31
EVs: 4 Def , 252 Atk , 252 Spe
Moves: Dragon Dance, Waterfall, Stone Edge, Earthquake / Bounce



(3)Lead Jolly Aero: Lead, Pressure With Focus Sash (5) Medals
IV's: 31, 31, 31, 31, 31, 31
EV's: 4 HP, 252 ATK, 252 SPE
Moves: Stealth Rock, Taunt, Earthquake, Rockslide

(3)TERRORDACTYLE Jolly Aero, Pressure WITH Life Orb (5) Medals
IV's: 31, 31, 31, 31, 31, 31
EV's: 4 DEF, 252 ATK, 252 SPE
Moves: Stone Edge, Earthquake, Roost, Taunt

(3)SUBROOSTE Jolly Aero, Pressure WITH LeftOvers (5) medals
IV's: 31, 31, 31, 31, 31, 31
EV's: 208 HP, 104 ATK, 48 SPDEF, 148 SPE
Moves:Substitute, Roost, Taunt/Whirlwind, RockSlide

Last edited: