Unto the Sand[OU Sand featuring Landorus]
Hello everyone! I'm CedOmega, bringing to you all a new OU RMT from myself ofcourse. I did have a very detailed, very thought out RMT to begin with, but the server "timed out" and I was unable to post it...so this is the second attempt. That said, the team is focused around making Landorus stand out. It was dedicated to Sand soon after its creation due to the helpful recoil Pokemon nonresistant take. Landorus captivated my fascination after an old team revamp inspired me to use its Sheer Force ability Incarnate form.
Tyranitar[SemperSand]@Leftovers
Trait: Sand Stream
Sassy nature
252 Hp/ 4 Attack/ 252 Sp.Defense
Stone Edge, Crunch, Fire Blast & Stealth Rock
Tyranitar is the team's weather inducer. Not only does he commonly serve as the team's lead, he serves as the teams sleep and death fodder should the opposing team not have a weather inducers. Stone Edge is for immediate power, Crunch helps against Psychic and Ghost types, & Fire Blast serves as a check to common threats like Scizor & Ferrothorn. Obviously, Tyranitar's Stealth Rock makes him the team's setter.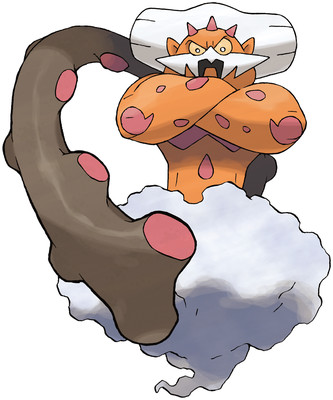 Landorus[Apocalypse]@Life Orb
Trait: Sheer Force
Modest nature
42 Hp/ 252 Sp.Attack/ 216 Speed
Earth Power, Hidden Power(Ice), Focus Blast & Rock Polish
IVs: 31/02/30/31/31/31
Landorus is the star of the team and therefore is centered as the main attacker. Pretty much everything done in the battle is to see his way onto the field, if the extra support is needed. With Life Orb + STAB, Landorus' Earth Power is simply monstrous. Having Hidden Power(Ice) grants him coverage against opposing Dragons and Flying types like Thundurus-T, Gliscor, Dragonite(After SR), Salamence & Grachomp. Focus
Miss
Blast is the most frustrating move to use, however, when not acting completely incompetent, it does its job effectively. Its spread is custom made to add bulk, leaving room for the abuse of HP(Ice) while taking recoil, and and giving Landorus the speed he needs to have ensuing a single Rock Polish.
Garchomp[Jaws]@Choice Scarf
Trait: Rough Skin
Jolly nature
252 Attack/ 4 Sp.Defense/ 252 Speed
Outrage, Earthquake, Fire Fang & Dragon Claw
Garchomp is the team's go-to guy for most Dragons that Landorus cannot come in on. Since Scarfed Latios has once again become a fad, Jirachi was added to cover its weakness in being outpaced by him. Having Jirachi by his side, Garchomp also fears very little Ice attacks, including Ice Shard from Mamoswine and Donphan, since I am often good at getting a double switch in such as Garchomp>Jirachi>Rotom-W. Outrage & Earthquake are a great pair, while Fire Fang is also an added coverage move. Dragon Claw was added after the need for Stone Edge was no longer up to par with the Volcarona counter method. Instead, I desired to not be stuck in an Outrage-lock against Steel types, which resulted in the addition of Dragon Claw.
Rotom-W[Eekz]@Leftovers
Trait: Levitate
Modest nature
252 Hp/ 252 Sp.Attack/ 4 Sp.Defense
Hydro Pump, Volt Switch, Pain Split & Will-o-Wisp
Rotom-W was originally added for "Lols" but has since proved itself to be of use on the team. Rotom-W brings the team a source of burn to cripple Breloom & other physical threats with Will-o-Wisp. The reason for running max Sp.Attack and a Modest nature is to hit as hard as possible and max Hp is to at least sustain some bulk as an attacker. Hydro Pump handle everything a rain team has to offer, while Volt Switch allows me scouting ability and also a good KO switch on some opposing Pokémon. Coupled with Jirachi's Wish pass, this set functions very effectively.
Jirachi@Leftovers
Trait: Serene Grace
Careful nature
252 Hp/ 220 Sp.Defense/ 36 Speed
Iron Head, Body Slam, Wish & U-turn
Jirachi is the team's hax master with paralysis and Wish support. Standard ParaFlinch Rachi set used here. I usually go for an immediate Wish pass or Body Slam, depending on the situation. Jirachi's role is mainly spreading paralysis like the plague & spamming Iron Head. Since Jirachi's common switch ins are often Heatran, Infernape, Landorus(I & T), & Volcano, Jirachi finds itself repeatedly passing Wishes to Landorus & Rotom-W.
Reuniclus[Jello*]@Life Orb
Trait: Magic Guard
Quiet nature
192 Hp/ 64 Defense/ 252 Sp. Attack
IVs: 31/26/31/30/31/2
Psyshock, Shadow Ball, Focus Blast/ Hidden Power(Fire) & Trick Room
Reuniclus made the cut as the final member after I reviewed old team revamps from my Smogon profile. Reuniclus is one of the most annoyingly deadly Pokémon to deal with on the team. That said, Reuniclus is the team's status & Leech Seed absorber. In fact, with Ferrothorn being so prevelent, Reuniclus finds many opportunities to come in against all variants of Ferrothorn and set up Trick Room and follow through with an all out assault. After setting up Trick Room can tear through the opponent's team with Psyshock, Shadow Ball, & Focus Blast. Hidden Powe(Fire) is only optional if Scizor and Jirachi begin to become annoyances to the team overall.
In closing, this RMT is of no comparison to my first typing. Sadly, it was lost, but at least I get to oresent the team.
I hope everyone enjoyed reading my run around second version. Haha. All suggestions will be taken into account and considered for the overall to team. Happy rating!​
Last edited: