Hello everyone. After dealing with fears that people are going to anti-team against me or steal my team altogether, I've finally decided to remake the previous RMT I made after deleting it.
|
|
|
|
|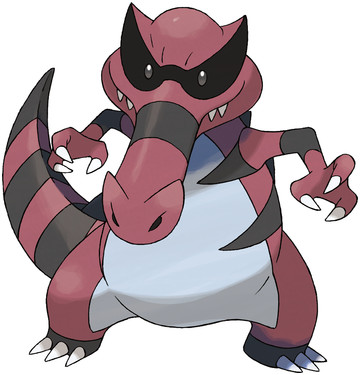 Krookodile @ Chople Berry
Ability: Intimidate
Nature: Adamant
EVs: 252 Atk, 252 Spd, 4 HP
Moves:
Earthquake
Crunch
Protect
Rock Slide
There's a reason why Krookodile's sprite is the only one that moves. This guy is practically the captain of my team. Earthquake gives him a powerful STAB to use that wipes out many opponents. Crunch gives me a good 2nd STAB that lets me hit Psychics and Ghosts. Rock Slide is there to give me the Ground/Rock synergy and hit Flying types. Protect is the typical move for most Doubles pokemon, and with the shallow movepools of most Unova pokemon, I decided to give it to him.
Rotom @ Sitrus Berry
Ability: Levitate
Nature: Modest
EVs: 252 HP, 252 Sp. Atk, 4 Spd
Moves:
Thunderbolt
Hydro Pump
Protect
Discharge
One of Krookodile's best partners. Thunderbolt lets him get rid of Water types for him while Hydro Pump gives him a powerful 2nd STAB that covers his weaknesses. Discharge gives me a spread move that gives me a good chance at paralyzing my opponents without damaging Krookodile. I need not explain Protect anymore in this thread since the purpose is too obvious.
Latios @ Haban Berry
Ability: Levitate
Nature: Timid
EVs: 252 Spd, 244 Sp. Atk, 4 HP, 4 Def, 4 Sp. Def
Moves:
Psychic
Substitute
Calm Mind
Dragon Pulse
The special sweeper of my team and the 2nd Levitator. Substitute and Calm Mind let me stall out Sucker Punch while I set up and my partner takes out the SPer or any of his weaknesses for that matter. Dragon Pulse lets me hit most dragons hard enough to score a 0HKO w/o boosts. Psychic is there to give me something good to use against Fighting types w/o worrying about Intimidate ruining my day.
Heatran @ Passho Berry
Ability: Flash Fire
Nature: Modest
EVs: 252 Sp. Atk, 252 Spd, 4 HP
Moves:
Magma Storm
Earth Power
Hidden Power (Ice)
Protect
My most commonly used late-game hitter. Heatran's main purpose is to switch in on moves that would hurt my partners, and with all the resistances he has thanks to his Steel typing, he does that job well. Normally I would use Heat Wave over Magma Storm, but I figured that with my luck, I might as well use Magma Storm anyway in order to have a powerful STAB that ruins leftovers when it hits. Earth Power keeps him from being walled by other Heatran and Chandelure. HP Ice gives him some extra coverage and me another pokemon to use against Dragons.
Whimsicott @ Miracle Seed
Ability: Prankster
Nature: Calm
EVs: 252 HP, 120 Sp. Def, 116 Sp. Atk, 20 Spd
Moves:
Safeguard
Encore
Giga Drain
Tailwind
A pokemon that completes the power trio of Water-Fire-Grass and the main supporter of the team. Tailwind boosts the team's speed just enough to outpace most threats. The Miracle Seed, Giga Drain, and the EVs give me enough power to 2HKO guys like Politoed and Jellicent and enough defense to survive about 2 Ice Beams from them after draining their health. Since I have to worry so much about Amoonguss and random status problems, I figured that I was going to need Safeguard more than Taunt since it lets my opponent use their status moves and leave themselves open to Encore since Encore on Whimsicott is rare.
Mienshao @ Flying Gem
Ability: Regenerator
Nature: Jolly
EVs: 252 Atk, 252 Spd, 4 HP
Moves:
Hi Jump Kick
Acrobatics
Detect/Wide Guard
Fake Out/Feint
Basically my side supporter/battering ram. Hi Jump Kick gives me a powerful STAB to use while Acrobatics gives me another move to use in order to cover the major Bug weakness I have in my team. I was using Detect, but I was thinking about using Wide Guard instead so I can defend the team against Blizzard spam, Muddy Water, Scarfed TTar Rock Slide, random Heat Waves, and Jellicent's Water Spout. I wish it could defend against Dark Void as well. I liked using Fake Out, but I can only manage to use it once or twice, so I've been thinking about replacing it with Feint so I have a Priority user that can smash Protect/Detect users and ruin Focus Sash users.
That just about wraps up the RMT. Hope everyone enjoyed this and will post their thoughts.
One last look:
|
|
|
|
|
Last edited: