And, as if by magic, the webmaster appeared...
Staff member
Admin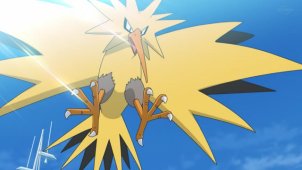 VS Zapdos! Legendary Raid Battle!!
A huge thunderstorm hits Sakuragi Lab as Ash & Goh are relaxing. As they soon detect energy, they realise the Legendary Pokémon Zapdos may be the cause of it. As power blackouts start to happen, Goh thinks he knows where Zapdos is. When they go there, they encounter Zapdos and immediately challenge it to a battle. However, after not being able to win, they decide to have a Raid Battle against it with Team Rocket. Will they defeat Zapdos?
Visit The Episode Guide
Discuss