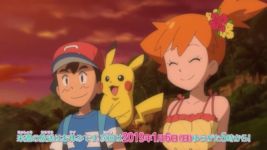 Images: BulbaGarden Archives (sprites) and Serebii (anime screenshot)
This fic is on
FanFiction.Net
as well.
Author: AquaMilotic
Title: Who is Ash Ketchum's Father?
Fandom: Pokemon
Pairings: PokeShipping (Ash x Misty) and JoyShockShipping (Ash's Pikachu x Misty's Togetic)
Status: Finished
Rated: R, for strong language and mentions of sexual activity. However, no details or actual sex scenes. I was doubting between PG-13 and R, and decided to play it safe.
WARNING:
- This fic is supposed to be humorous. Breaking the fourth wall, mentioning fandom/shipping is intended to be a joke, not more than that. Mentions and 'descriptions' of sexual activity are supposed to be funny, not hot.
- The harsh things said about Delia... I am very strongly against slut shaming. Misty voices my opinion on this. I do NOT agree with the things some of the male characters say about Delia!
- The story is a parody on the South Park episode 'Cartman's Mom Is A Dirty Slut', in which South Park character Eric Cartman tries to find out who his father is. Because of that, the storyline is loosely based on the plot of that South Park episode, even though the ending is very different.
- If you are offended by Pikachu x Ketchup jokes, please leave this page now.
Chapter 1:
https://forums.serebii.net/threads/who-is-ash-ketchums-father-pokeshipping-r.675716/
Chapter 2:
https://forums.serebii.net/threads/who-is-ash-ketchums-father-pokeshipping-r.675716/#post-19000140
Chapter 3:
https://forums.serebii.net/threads/who-is-ash-ketchums-father-pokeshipping-r.675716/#post-19000141
Chapter 4:
https://forums.serebii.net/threads/who-is-ash-ketchums-father-pokeshipping-r.675716/#post-19000142
Chapter 5:
https://forums.serebii.net/threads/who-is-ash-ketchums-father-pokeshipping-r.675716/#post-19000143
----------------------------------------------------------------------------------------------------------------
Chapter 1
A few months after winning the Alola League, Ash sat on the couch, next to his mother.
'Why are you so quiet, Ash? Is something wrong?' Delia asked. 'Is it because you miss Misty?'
'Well, I miss her, but I've been wondering... Who is my father?'
Delia knew this day would come. She always told Ash that her father was a Pokemon Trainer who travelled on his own, but that was an excuse to avoid difficult questions. Today, the time has come to tell Ash the truth.
'Ash, you know how babies are born, right?'
'Yes, Brock talked to me about love and sex a few months ago.'
'Well, the thing is... Just before I got pregnant with you, I was at a party. The annual Pallet Town Bailey's Festival...'
'Bayleef Festival?' Ash asked. 'What does Bayleef have to do with sex?'
'No, Bailey's. A heavy, alcoholic beverage. It's a drinking festival, for adults only. I was a young woman who drank alcohol for the first time, back when I was nineteen years old... I saw Spencer Hale, an attractive young man from Greenfield. When I saw the bulge in his way too short shorts, I knew he wanted me. I couldn't stop staring at his sexy brown eyes and decided to take my top off, we made out a little, and he gave me a second bottle of Bailey's.'
'Okay...' Ash mumbled. 'Then what happened?'
'I got really, really, really drunk. I have no idea what happened. But a few weeks later, I found out that I was pregnant with you!'
Then, Ash got up from the couch. 'Mum, something urgent just came up. I've got to go.'
'So soon? I thought you were staying here for the rest of the week...'
'Sorry, I'll let you know what this is about later,' Ash said.
'Okay... But please, put some clean underwear on. When Misty visited you in Alola, she said you still were still wearing the underpants you wore on the day you started your journey!'
After changing his underpants against his will, Ash ran out of the house. His mother was unable to stop staring at her son, who got further and further away from the house.
Spencer Hale lived on Cinnabar Island, not far away from Pallet Town. However, to get there, Ash needed to cross the sea. How would he do that? 'I know!' he thought. 'Misty's Gyarados!'
A few days later, Ash shaked Misty's hand in front of the Cerulean Gym. 'Misty, I've missed you so much!' The boy from Pallet Town noticed Misty's revealing Alolan outfit, consisting of red flipflops, a short, yellow skirt and a yellow crop top with thin, red straps, much to his pleasure.
'I've missed you too!' Misty said. 'What brings you here?'
The Cerulean Gym Leader couldn't help but notice Ash's staring. Was he checking her out? Is this the real life? Is this just fantasy?
'Well, Misty... Tracey arranged something for us. You've got three weeks off, so we can go on a small journey through Kanto.'
'That's amazing! But what about the Gym? My sisters are too lazy and irresponsible to fill in for me...'
'Gary is filling in for you at the Gym. He'll be here this evening. Tracey already called Daisy to tell her about this. Grab your backpack and come with me!'
Half an hour later, Ash and Misty sat down on a bench just outside of Cerulean City. The Cerulean Gym Leader took her Gyarados, Corsola, Politoed, Psyduck and Staryu with her.
'Ash, what is our plan? What kind of journey is this?' Misty asked.
'Well, I'm trying to find out who my father is, and I wanted you to come along with me,' Ash explained. 'You're my best friend, and I want you to be there when I finally find out.'
'That's amazing! It'll be amazing to spend some time together! But do you have any clues?'
Ash told his friend what he heard from his mother. He told her about Delia getting drunk and checking out Spencer Hale.
'So Spencer Hale is your father?' Misty asked.
'Probably... My mum doesn't remember what happened after making out with him.'
'Why not?'
'She was drunk. Really, really drunk.'
'So you want to ask Spencer what happened that night?'
'Yes.'
'Do you even know where Spencer lives?'
'Tracey told me that he lives on Cinnabar Island.'
'Nice! How do we get there?'
'On your Gyarados,' Ash suggested.
'Wait... So you just asked me to do this so you could travel to Cinnabar? So you just want to benefit from Gyarados, and you don't give a **** about spending any time with me?' Misty snapped.
'No! I wanted to spend time together! I could've easily taken a ferry to Cinnabar. Or I could've borrowed Professor Oak's Mantine,' Ash said. 'I want you to be there when I find out who my father is, because you're my best friend!'
'I hope I'll meet my future father-in-law,' Misty thought. However, she could NOT say that out loud. What if Ash would be freaked out? What if Ash wasn't into her? He just had to be into her! He was mesmerized by the view of her in a skimpy bikini. He freaked out from jealousy when Danny and Rudy were hitting on her on the Orange Islands. And besides, he was checking her out earlier today! But did the kid understand how he felt? Was he aware of concept like love and sex?
Then, Ash interrupted Misty's thoughts. 'I have another surprise for you!'
'What is it?' Misty asked.
'Pi Pikachu!' Pikachu shouted, pointing at a white, winged Pokemon with blue and red triangles on her body.
'Toge Togetic!' the Pokemon squealed, while flying towards Misty and jumping in her arms.
'Togetic! I can't believe it's really you!' Misty cried. Back when she visited Ash in Hoenn, she had to release her Togetic in the Mirage Kingdom, so her Pokemon could protect the Togepi living there.
'Tracey told me that he got a phonecall from Princess Sara last week. Her Togepi evolved and became the new protector, so Togetic could return to Misty. Originally, Tracey was going to pick up Togetic and bring her to the Gym when visiting Daisy. However, when I told him I was going to see you, he contacted Princess Sara. The Princess told Togetic to fly to Cerulean City, so she could reunite with you,' Ash explained. 'So yeah, Togetic is back for good!'
'This is the best day of my life!' Misty cried, while petting her Togetic. Her unofficial child, who she adopted when the Pokemon was a baby Togepi.
'Pi Pikachu!' Pikachu cheered, while staring at Misty and her former signature Pokemon.
Meanwhile, in Pallet Town, Delia Ketchum stared out of the window, worrying about her son. 'Why didn't I tell him?' she thought.
Last edited: