And, as if by magic, the webmaster appeared...
Staff member
Admin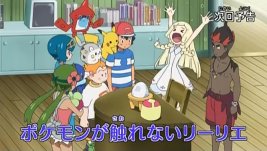 Who's in Charge of the Egg?
Samson Oak has given the gang a task of looking after a special Pokémon Egg, but when it comes to night it was decided that the Egg should be kept at Lillie's house which makes Lillie uneasy as she doesn't like touching Pokémon. Ash goes with her and is shocked to see how big her house is. As the house is so big, it even has a garden where Pokémon play as well as a battlefield, so Ash challenges Lillie's butler to a battle. Who will win and what is in the egg?
Visit The Episode Guide
Discuss