And, as if by magic, the webmaster appeared...
Staff member
Admin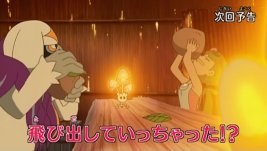 Mallow the Runaway and Oranguru!
With their cafeteria appearing on TV, Mallow ends up having a fight with her father and storming off into the forest. However, she soon finds herself injured and has to be protected by a wild Oranguru. However, Steenee has gone into the forest to look for Mallow only to find Team Rocket in pursuit. Will they be able to reunite?
Visit The Episode Guide
Discuss