And, as if by magic, the webmaster appeared...
Staff member
Admin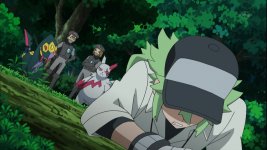 N Returns! Operation: Rescue Braviary!!
Team Plasma are continuing their plot to control various Pokémon and are transporting Pokémon to use in their experiment. N is on their tail and attempts to protect and rescue the Braviary they are transporting. However, in doing so he alerts Team Plasma to his presence who attack him. Taking it to the Pokémon Centre, N meets up with Ash & co. but soon after the reunion, the power in the Pokémon Centre cuts out...
Visit The Episode Guide
Discuss