sometimes i get a deadache, yeah
Yo! It's time for another story in this rather loosely PMD world. This time we're in a completely different nook of the world, so don't worry if you haven't read
Pletora's Story
, as there are no crucial links between the two. Just like
Pletora's Story
, though, this'll be only a couple parts long or, dare I say, a
few-shot
. That's what I'm gonna call things like these that I
think
are going to be three-parters but can end up being one part short or more anyway.
Expect this story to be more lighthearted than
Pletora's Story
... though don't expect it to be free from a little darker humor in places. You know that's the way I like it. As for ratings, ehhh... think I'll say
teen
for the whole fic to be sure. I haven't planned every scene out yet, but there may be some light violence and language. This first part might be
everyone
, though. Just feels really weird to call
anything
I write everyone material.
Either way, here is
Dragony
, the story of a hopelessly dragon-obsessed eevee. Feedback is greatly appreciated. Special thanks to a fellow writer friend for helping me out with a certain character's accent. Alright, enjoy!
---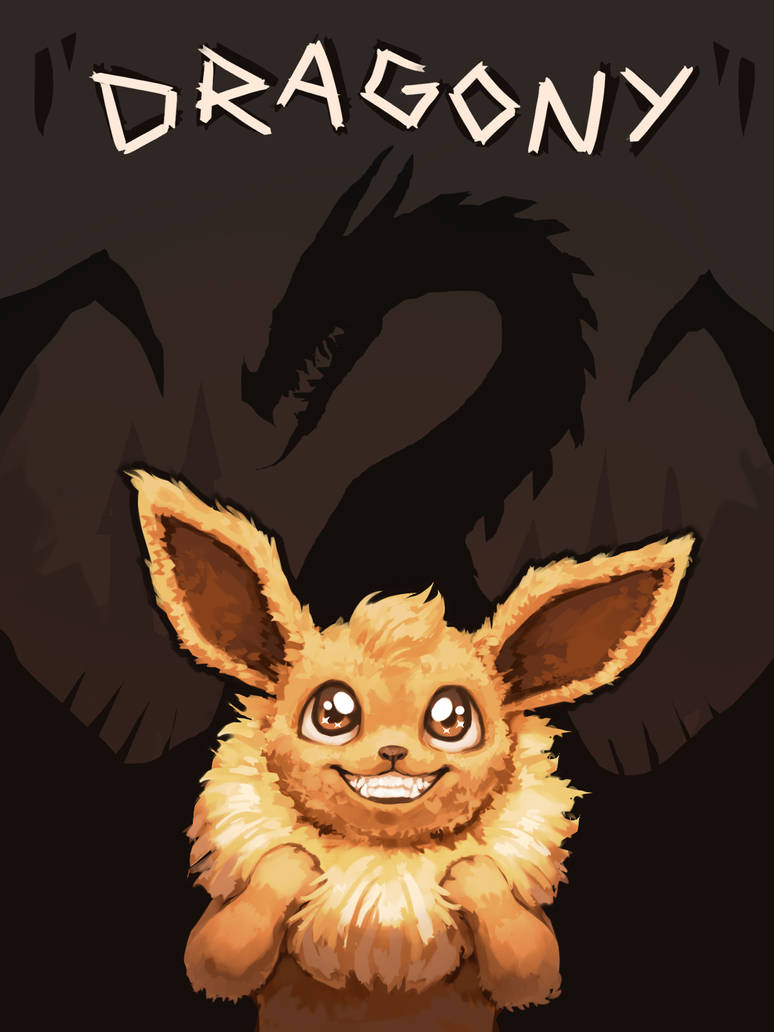 DRAGONY
Synopsis:
Eevee Keith loves dragons more than anything and wishes to evolve into one himself. But eevee don't have a dragon evolution. Or do they? Keith believes so, and will travel to the heart of the Dragon Kingdom to prove it.
Genre:
Adventure, Comedy
Started:
12 January 2019
Status:
Finished (26 May 2019)
Length:
Six Parts, 32 000 words
---
Part One

---
​
"Once upon a time, in a faraway land, there was a beautiful kingdom of castles and towers galore. This kingdom had an equally beautiful princess. She was a lopunny with the finest and purest golden fur of all the kingdom, but even purer was her heart."
Boring...
Keith sighed, studying his soft, pink eevee paw pads while the teacher told her dreary story. He glanced around the classroom, noting that his boredom was shared by most others in the predominantly eevee-occupied classroom.
The teacher, a glaceon whose icy crest was already beginning to turn cloudy with age, ignored the disinterest of her students and continued on. "The king, a graying diggersby, loved his daughter above all else, buying her the prettiest and sparkliest of dresses, even if the princess was humble and always said she didn't deserve them…"
Keith rolled his eyes.
Ugh, so boring! How long until the break?
"But one day, the peace in the kingdom was disturbed greatly, when a terrifying dragon appeared --"
Keith's ears, formerly flopped to his sides, perked up high.
Wait. Dragon? There's a dragon?
"-- and flew to the tower where the princess lived. With its big, scaly hand, it reached into the window and grabbed the maiden, then flew away with a sharp-toothed grin on its fearsome face!"
The eevee sat up straight in his seat, like a model student. His bushy tail began to wag.
Yes! Awesome! Go dragon!
"Distraught, the king ordered his best knights to attack the dragon's cave and bring back his daughter, but none succeeded. The dragon was simply too strong with its armor-like scales and fiery breath."

Yes! So cool!
Keith's frantic tail-flailing and shining grin had now gotten the attention of a few students, who exchanged looks ranging from discomforted to anticipating. At the back of the class, an aipom quietly snickered.
"But one day, a prince from another kingdom came to see the diggersby king. He claimed that he could defeat the dragon and rescue the princess. The king's knights laughed at the claim, as the prince was only a togetic, but the king was desperate enough to put hope in this stranger. He promised that should the togetic succeed, he would have the princess's hand in marriage."
Aw, boring! Go back to the dragon!
"So the prince set out to rescue the damsel, riding on the back of his trusty stoutland steed, and finally came face to face with the monster!
Yess!
"As the dragon raised its giant hand to swipe at the prince with its sickle-like talons..."
Yes! Let him have it! Show him just how cool you are!
"...the prince drew his mighty sword glowing with fairy energy..."
Wait, oh no!
"...and with one precise swing…"
Keith nibbled on his tiny claws.
No, no no no...
"...he pierced the dragon's scales like hot butter and slayed the fearsome beast!"
"Noooooo!"
The entire class quieted, turning to Keith. The eevee realized his mistake and crouched, as if weighed down by the dirty looks he was receiving.
The teacher sighed. "Is there a problem, Keith?"
Keith could feel his face heat up. "U-uhh…"
"There's no problem," interjected Mila, the eevee sat next to Keith. "Please continue," she added in her monotone voice.
"Very well, then…" The teacher cleared her throat and resumed telling her story. Not much was left of it, but enough to draw the other students' attention away from Keith.
"...And so the prince and princess married and lived happily ever after." The teacher closed the book on her desk, picked up a piece of chalk and moved over to the blackboard. With the help of a light, wooden plank, she drew four columns, then labeled each after a character in the story. Princess, Prince, King, Dragon.
"Alright, everyone," she spoke up, pointing to the board. "In these columns, we're going to be adding words that describe the characters. Remember that words that describe things are called 'adjectives'." For emphasis, she wrote the word above the columns. "Now, please name a character and a word that describes them."
Keith's paw shot up.
The teacher suppressed a sigh. "What do you have, Keith?"
"I have a word for the dragon," he blurted. "M-misunderstood!"
Mila covered her face with a paw. The aipom at the back of the class had trouble concealing his giggles.
"Keith, how was the dragon misunderstood?" the teacher asked tiredly.
"Well, like…" Keith hesitated, but gulped down his fear.
If I don't defend the dragons, who will?
"I-if the dragon took the princess, he must have been lonely or something! He didn't deserve to die. They should've talked it out."
"Keith, I'm glad that you're showing interest in literary analysis," she said, though her tone much implied otherwise, "but you seem to be seeing things that aren't there. While I didn't
explicitly specify
it, this dragon is just like the dragons in our world - a bloodthirsty beast or at best a barbarian. Even if it
was
lonely, which I doubt dragons can be, it should have gone back to its own kind. All this considered, the dragon is well understood... although, to be fair, he is currently misunderstood by
you
. Which creates an interesting paradox, but I would much rather move on. Does anyone else have a suggestion?"
"B-but --" Keith tried, but the teacher wasn't having it.
"Do not interrupt me again, Keith," she said sternly, "unless you want to spend the rest of class in the corner."
Keith humphed and leaned onto his forelegs.
"If you want to argue about dragons," the teacher continued, "you should do that in your history class instead. You can hear all about dragons and their uncivil ways over there. Now, who can give me an adjective?"
The teacher continued to take answers, all of them rather obvious, and write them on the blackboard. From behind him, Keith's ears could catch a quiet conversation.
"I have a word for Keith," the aipom whispered to a classmate. "Crazy..."
Snorts arose from the area. Keith shrunk in his fur, scowling. He stayed silent for the remainder of the lesson.
---
Some years passed. Keith's cublike traits faded as his ears and tail lengthened and limbs grew a bit lankier, but unlike most of his peers, he still remained an eevee.
Keith paced onward along the cobblestone road leading away from his school. He tried his best to place his paws on the stones and avoid the wet crevices, but every few moments he dipped a toe or four in the cold, dirty water and grimaced. He hoped a proper winter day would soon come again and freeze the puddles over. It might be slippery, but it wouldn't get his paws all wet and gross.
Well, at least it's not raining,
he thought and circled a larger patch of water.
"Hey, Keith!"
Keith missed a step and only barely avoided sliding into the puddle. He took a deep breath and tried to walk faster, but the one who called him was more determined and caught up, blocking his path.
It was Oliver, the aipom who'd unfortunately stayed in Keith's class despite many threats of expulsion. A mischievous grin shone on the monkey's face, practically his trademark.
Keith could hear further footsteps behind him, so he turned to see what else he was up against. Minccino, jolteon, linoone… Oliver's usual sidekicks, it seemed, but some watchog was also among them. He looked somewhat older, and the others kept glancing at him to monitor his reactions.
"Seen any dragons lately, Keith?" Oliver asked mockingly, his gang and guest of honor as audience now.
Keith wrinkled his nose and humphed. "Of course not. It's winter and they usually don't go outside."
"So kinda like you, 'cause you have no life?"
The fur on Keith's back bristled. Oliver's sidekicks snorted, but the watchog stayed unimpressed.
"Oh, are you angry?" Oliver continued. "Whatcha gonna do, breathe your dragon breath at us? Poke us with your horns?" He dangled his tail hand in front of Keith's face. "Gonna bite my fingers off?"
"A dragon would eat you whole," retorted Keith, but then remembered he wanted to avoid perpetuating the image of the savage dragon. "Or they could, but they wouldn't, because they are civilized," he added.
Oliver turned to the watchog. "You hear that, Benny? He thinks dragons are civilized!"
"You think so, huh?" the watchog said to Keith, crossing his arms, though he still sounded rather uninterested. "You know about their war crimes, right?"
Keith raised a paw with a fire in his eyes. "Hey, I've looked into those, and they are greatly exaggerated!"
"Oooh, really?" Oliver pressed on, jumping from one foot to another. "You know, you should fight to settle who's right! Come on, Benny, kick his ass!"
"Can you guys just stop?" a new voice spoke.
The group of mon flinched, spotting the vaporeon who'd seemingly appeared from nowhere. The puddle under her feet explained her sudden appearance, however. Keith had always wondered what it was like to melt into water and travel across it.
"Come on, Mila," Oliver said, "you really gonna side with the wyrb?"
Benny raised an eyebrow. "Wyrb?"
"You know, wyrmaboo."
"Uh-huh."
Mila glared at Oliver. "If you don't leave now, you're gonna regret it."
"Tch, yeah, like you could do anyth-"
Mila crouched, and something cold clasped around Oliver's tail. The aipom turned and saw a fish-tail rising out of the puddle right behind him, its fins keeping his tail in a clammy hold.
"Whuh-"
The fins yanked back, and Oliver lost his balance, falling into the dirty water. The splash struck the mon standing next to the aipom, and that was Benny.
"Eugh!" The watchog shook his soaked feet in disgust. "Screw this, I'm out!" he shouted, marching away.
"Benny, wait!" Oliver clambered up and ran after Benny. His friends followed with worried looks on their faces. The mon disappeared behind a turn in the road, unlikely to return in a while.
Mila stepped closer to Keith, sighing. "They didn't do anything, did they?"
"They insulted dragons," Keith muttered.
"You have to tone down this whole dragon thing. It's basically social suicide."
"But I have to defend the dragons! If I don't --"
"Who will, yeah, I know." Mila sighed again, then shook her head. "You know what, that can wait. I actually had something else I wanted to talk to you about."
"Is it about dragons?"
"No," Mila growled. "I wanted to let you know that this one group is arranging another pilgrimage to the Cascade Rock for the ones who missed the main season. You could evolve into a vaporeon like me, and get the real pilgrimage experience too, instead of just using a boring old souvenir."
Keith pouted.
Mila's frills drooped. "Oh, Keith… don't tell me you still want to --"
"Yes I do! I wanna be a dragon!"
"Sweetie, I don't know how many times I have to tell you. There is no dragon evolution for eevee."
Keith threw his paws in the air. "Why wouldn't there be? Eevee's whole thing is turning into different types! And-and we have sylveon, that's like the anti-dragon, they need to have a dragon for balance!"
"Like they need a ground type for jolteon?"
"...Yes."
"Keith, you do know that story of the eevee who wanted to be flying and jumped off a mountain, right? It didn't end well for him."
"I'm not like that! It's not like I'm gonna climb into a dragon's mouth to evolve or something!"
Keith paused.
"Oh my Gods, you're thinking of it now, aren't you?" Mila shouted.
"N-no I'm not."
Mila sighed, now losing count of how many times she'd done so since the beginning of the conversation. "Just go on the pilgrimage. Become a vaporeon. It's the closest thing you're gonna get to a dragon. And it's not that far! Look!" She extended her foreleg, showing off the glimmering scales. "Scales and frills and a big ol' meaty tail. You'd love it!"
"No wings, no horns, no fiery breath."
"Gods, you're impossible to please. I'm leaving." Mila turned away, but gave Keith one last look. "At least think about it, won't you?"
"Fine," Keith groaned, and Mila was on her way.
Keith, too, continued on his path towards home. Familiar sights of stone and brick buildings went by, a few leafless trees, some passersby. An espeon, a leafeon - poor thing all wrapped up in scarves to manage in the plant-hostile temperatures - then a pair of frolicking eevee cubs. Lots of members of the eevee family, a signature attribute for the small but well defended guild of Pelton. The eevee family's wide range of elements gave the guild advantage over almost all types.
But lots of other mon took residence in Pelton as well, though they were predominantly of the normal type. Keith walked by many such examples - a persian, an ursaring family, a munchlax and then a mon he didn't recognize, but one that looked somewhat draconic --
Wait a second!
Keith took another look at the feathered green-and-white mon in front of the hut marked with the symbol of an apple. Long serpentine neck. Scaly snout.
Could it be?
Keith galloped to the stranger, who barely noticed him before the eevee's final strides, too preoccupied before with talking to the spectacled flareon on the other side of the counter.
"Uhh, so, yeah," the stranger quickly said to the salesman, his voice hoarse. "Ten apples, that's my order." The salesman nodded and turned away to pack his wares, missing the eevee zooming towards his store.
Close enough to the stranger, Keith stumbled to an ungraceful halt, then stared straight into the unknown mon's eyes.
"Sir! Madam! Other!" Keith spoke, unblinking. "Are you a dragon?"
The stranger raised his wing-hands covered in fluffy white feathers and shushed. "Keep it down! You wanna start a mob?" He tucked his hands back in the rest of his fluff. "But yes, yes I am," he added quietly. "A drampa. Half normal, half dragon."
Keith trembled with excitement. The stranger gave a worried look.
After making a noise that resembled a boiling kettle's wheeze, Keith finally returned to using his words. "I love, love, love, love dragons," he gushed.
"Uhh… okay."
"I've only ever seen real dragons from afar and my mom and dad won't let me get close because they say dragons are dangerous but I think that's a lie unless they're feral in which case I understand but they really looked civilized and that's why I'm mad at them and really want them to let me talk to them!" Keith drew in a massive breath to replenish his oxygen supply.
"That's… good for you," the drampa said, glancing at the salesman still packing the ordered apples.
"What's it like to be a dragon?"
"...What kind of question is th-"
"No, no wait, limited time, need to prioritize questions," Keith interrupted. "So, like, uhh, uhh, do you think that, uhh, you know how eevee, uhh, uhh..."
"Just… take your time, kid." the drampa said. "You don't wanna pass out from hyperventilation."
"Yes, yes, wise dragon, dragon advice..." Keith closed his eyes and took a few deep breaths. Still keeping his eyes closed, he carefully presented his question. "Do you think. That there could be a dragon type evolution for eevee. And if so. How would that evolution happen." He opened his eyes one at a time, seeming surprised he didn't explode or something similar.
The drampa brought a claw to his chin. "Uhh, well, lemme think… a dragon evolution for eevee. Possible? I mean, maybe, I'm not an eevee expert. How it would happen? Hmm… maybe a dragon scale or something? I mean, I've heard that a lot of your evolutions happen with some special objects related to the evolution's type."
"Cool! Yes! But I've-I've tried it with some scales, though. Ones I found on the ground or bought from souvenir shops."
"Well, maybe they weren't fresh enough or something. I've had this loose one for a while, you can have --" The drampa picked a scale off his skin, visibly flinching while doing so, and offered it to the eevee. "This one."
The eevee nabbed the scale instantly with his paw, popped it into his mouth and swallowed.
"...What in the Gods' names --"
"I don't think it worked..." Keith said, his ears drooping. "Y-you have to have some other suggestion, though!"
"Uhh… I don't really know..."
"Please!" Keith threw himself on the ground and pulled at the hem of the drampa's feather coat. "There must be something!" he cried, drawing odd and disapproving glances from a few passersby.
"I, uhh, w-well there is the Draco Plate," the stranger stuttered, yanking back his feathers and hoping that the mon on the street weren't making any ill judgements about him.
Keith brought his paws together. "Go on."
"I-I don't really know if it would work, but I've heard that these Plates can affect the environment and mon around them according to its type," the stranger said. "I don't know if it's an evolutionary way, but that's the closest thing I can think of."
"Great! Where is it?"
"Um, well, that's really the bad news here… it belongs to the King. So it would probably be in his castle."
"So in Farindon, right?"
"The capital, yes."
"Awesome!" Keith jumped upright, his tail wagging rapidly. "Thank you so much!"
"Hey, hey, hold on a minute here," the stranger said. "You can't just waltz right into the heart of the Dragon Kingdom --"
"Why not?"
The intense stare from the eevee's eyes lowered the drampa's interest in continuing the conversation drastically. This eevee was clearly doomed regardless of any answer given.
"Ten apples," announced the shopkeeper, lowering a bag onto the counter and snapping the stranger out of his thoughts.
"Right, yes." The stranger dug his wallet out of his bag and gave the salesman what he owed.
"Have a nice day," the flareon chimed as the drampa claimed the bag and turned away from the stand.
"A-anyway, thank you so much!" Keith said, tailing the leaving drampa. "Your long life has truly made you wise beyond comparison!"
"I'm twenty-three!" the drampa growled.
"Centuries? Wow… the things you must have seen!"
The drampa shook his head and finally turned away for good.
"Thank you! Bye!" Keith shouted after the mon, waving his paw, then returned to his path home with starry eyes and a wide smile.
---
Keith patted his saddlebags. Full and ready. Two weeks' gathering of supplies had finally reached its completion, and now he was ready for the trip.
Keith opened his window, unfazed by the cold, moonlit night thanks to his warm scarf and fur. He heaved his bags through onto the snow outside and climbed on the sill, but a conversation in the other room caught his ear.
"Honey, I'm worried about Keith."
It was his father's voice, followed by a sigh from his mother.
"Not this again," she grunted. "I keep telling you, it's just a phase. It'll go away with time."
"I-it's not showing any signs of fading, though. If anything, he's become more determined lately!"
"I haven't noticed any difference. It's just the full moon messing with your head."
"It's been longer than that! And you really should stop playing that moon card."
Keith's mother groaned. "What exactly are you afraid of in his dragon obsession, anyway? Even if he by some black magic manages to gain dragon traits, you're a sylveon."
"Exactly! He'll have all the reason to hate me! Fairies are the anti-dragon!"
"And I'm a glaceon. Big deal."
"He doesn't need dragon powers to s-slit my throat when I'm sleeping!"
"Honey, come on. Does that sound like Keith to you?"
"Maybe not now, but if he radicalizes, turns into one of those draconationalists…"
"Honey, that will not happen. This is definitely the moon, no matter what you say."
"Stop playing the card!"
Keith had no real interest in staying behind to listen to his parents argue, so he jumped down onto the snow and closed the window behind him.
Keith's heart became heavy for a brief moment upon realizing that he never had said goodbye, but he knew that telling his parents about his plans would only make them stop him. And as an eevee against two adult 'eons, he'd really stand no chance.
Don't worry, Mom and Dad,
he thought with a self-encouraging smile,
I'll be back before you know it, as a brand new evolution!
With that echoing in his mind, he picked up his saddlebags and set off on his way to the piers.
---
"Halt!"
"Ahh!" Keith stopped in his tracks.
Wh-who said that?
"Who goes there?" the stern voice continued.
"J-just me, Eevee Keith!"
"Oh, no worries, then!" The voice now came from right beside Keith, causing the eevee to flinch.
The full moon and the flickering torches on the guild wall lit a large, quadrupedal figure with glowing yellow ring-shaped markings. It was definitely the bulkiest umbreon Keith had ever seen.
Oh, he must be a guard.
"Thought you were a thief, you see," the guard continued.
"Where did you come from?"
"My mother's womb, of course," the umbreon replied, then laughed. "No, I traveled through shadow. Which is rather everywhere during the nighttime."
"Whoa, you can do that?"
"Yes, we Pelton umbreon can… did they not teach you this in school?"
"Uhh… probably, but I just didn't listen…"
"You should really pay more attention at school, boy. But either way, where might you be headed?"
"I'm… taking a lapras ride to the continent to…" Keith spoke slowly to buy himself time to think of a lie. "...get my parents a surprise gift!"
"Ooh, a gift! You're a good son, you are. But beware of those dragons! It might be winter, but they still need to hunt from time to time."
"I… I will, thanks," Keith said and began walking again. He was relieved to see the umbreon not follow.
"Best of luck to you!" the umbreon said with a wave, then melted back into the shadows.
Keith picked up his pace, not wanting to push his luck.
Some minutes of walking later, Keith reached the piers. The rim of the beach was mostly covered in ice, but near the horizon, the waves were too big and strong to freeze over. Some floes could be seen floating closer to the beach, however.
Keith set his course for the building by one of the larger piers. Warm, golden light shined from its windows, alluring to Keith even with his cold-resistant coat. He trotted the last few meters, then entered through the door, causing a bell to ring.
"Oh, hello," spoke a bibarel behind the counter directly ahead. Some parts of his fur appeared shining and clumped, which Keith guessed was due to a recent swim and a sloppy drying with a towel. "How can I help you?"
"Yea, I reserved a lapras ride a few days ago? Name was Eevee Keith."
"Alright, lemme check..." The bibarel opened and went through a book on the counter. "Ah, there you are. Nancy's your ride. Looks like you paid in advance, too, so you're all set. Just gotta get the raft hooked up.
The bibarel waddled around the counter and advanced to the right side of the building. Its ceiling much was higher, and its floor was replaced by the sea's water save for a few walkways and the right end of the room, which was dedicated to a passageway lined by numerous harnesses on the wall. A few rafts floated in the water, bearing rather modest shelters atop them.
The bibarel walked to the end of one walkway and pulled a lever on the wall, causing the gate to the water next to him to open up with a rattle.
The bibarel leaned out towards the open sea and startled Keith with a shockingly loud yell. "Ay! Nancy! Get your tail over here! You got a customer!"
"Whaaat?" sounded a voice from somewhere far away.
Keith knew now to cover his ears before the bibarel responded.
"Naaancyyyy! Heeereee!"
"Fiiiine!" the voice responded, though Keith barely heard it through his paws. Luckily, it seemed like the bibarel was done shouting for now, allowing him to uncover his poor ears.
Eventually, a sea-green lapras swam into the room. It spun around to face the sea, then gave the bibarel an expecting stare.
The bibarel sighed. "Yeah, yeah, I just got done drying off is all..."
He passed Keith to grab one of the harnesses. He took a minute to untangle it, then dove in the water. Keith dodged a few splashes.
As the bibarel was fastening the harness onto the lapras, she turned to Keith. "Ye're heided tae the continent, huh?"
Keith nodded. "M-hm."
"Weel, A'm sure ye've been hearing it a lot, but watch oot fer drugans. A'm telt eevee are their favourite food."
Keith pouted. "Mm-hmmm…"
"Alright, harness on..." said the bibarel, now thoroughly wet, then attached the leash of the harness to the front of the raft. "And raft hooked up. You're all set!"
He leaped from the water with a powerful flick of his flat tail and waddled to Keith. "Safe travels!" he said, opening the door to the shelter atop the raft and gesturing the eevee to go in.
Keith thanked the bibarel and entered. Inside the shelter was a flimsy desk, a bed of somewhat higher quality and an oil lantern, but not much else - only a couple of pots Keith wondered the purpose of, then guessed were reserved for different kinds of wastes. One might have been drinking water. He would have to ask Nancy to be sure if he needed either.
Keith climbed up on the bed, leaving his saddlebags on the floor, and so they were ready to depart. Nancy paddled out of the building, the gate closing behind her, and set out to the open sea.
"Be sure tae enjoy the view while it lasts," said Nancy as the torch-lit beach grew more and more distant. "Affer we lose secht ae the island, it's only the black sea and the dim stars in the sky."
Keith nodded, though afterwards realized Nancy couldn't see him through the shack.
"So… on clear nights like this, you have the stars, but how do you not get lost on cloudy nights?" he asked.
"Inbuilt compass," Nancy replied. "Tis how the feral eens migrate. We jist ken fit way is fit."
"Huh."
Keith remembered Nancy's encouragement to look outside and peered out of the little window above the bed. He'd looked before, but he didn't mind looking again.
He watched the icy shore and the floes get smaller and smaller and eventually reduce to a mere line of light in the darkness around. He wondered what the coast of their destination would look like. Would the light of the capital reach all the way there? Farindon wasn't
that
far from the edge of the continent. And it was said to be the greatest city ever built! Keith was excited to see it with his own eyes even outside of the dragon inhabitants.
He yawned and realized he didn't really have any reason to stay awake. It was nighttime, and he would need to walk a considerable amount the following day. I should go to sleep, he thought, and lay down on the bed beneath him.
Keith sighed contently, closing his eyes.
To think that by this time tomorrow, I may already be a real, honest-to-Gods dragon…
He stretched his paws and curled up. He tucked his snout in his fluffy tail.
I guess I probably won't have all this fur anymore then, but it's a small price to pay. And that drampa did have feathers. Maybe my dragon evolution will have feathers too? I hope it doesn't take away from the dragonness if that ends up happening. Though I know I'll still be happy with anything I get, since I'll be a dragon and that's what really matters…
Wondering what his new form would look like, Keith slowly slipped to sleep. Outside the shelter, Nancy continued sliding through the blackness, unflinching at the cold waves crashing onto her skin.
---
Last edited: